doodlemaier posting in

bee_folk
This morning I discovered this open-comb, free-hanging, feral honey bee nest in my backyard at Medford. Naturally I'm wondering where this colony came from and how long they've been in the tree. It's not likely that either of the Easter colonies had the time/resources to swarm again so early in the season. They could be another random product of 2012 Swarmapalooza season, or my theory is that these are the survivors of a colony, Isis, that I kept at this location last year which I thought had succumbed early after I attempted to transition the summer cluster into a framed hive body, but I never did find the queen among the too few dead bees left behind in the hive. I remember being suspicious at the time that they might have absconded. The colonies that I have situated at this location presently were both acquired this season on Easter day, one as an early swarm from my own hive on Easter morning in Strasburg, and the other inhabited a bait box later that afternoon in nearby Bentonville. Hence the name the Easter Apiary at Medford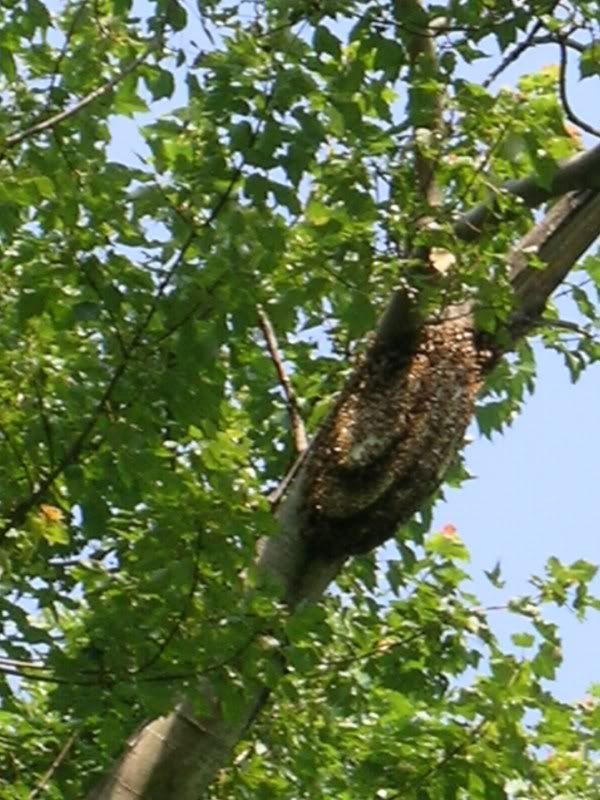 There are four large distinct combs, ranging in size from a Whamo Frisbee Flying Disc up to that of a standard toilet seat lid. I was hanging out this morning having coffee with the bees and they've been testy for days. Quite out of the blue I was stung on the head for standing there minding their business. I decided it was time to head to work after that and from the driveway, thinking about the sting on the top of my head, I looked up where the large nest apparent. I wonder how I didn't see it sooner.

Had they been there all winter? If this colony is Isis it means that they would've had to overwinter in the open, and for me not to notice them especially without the coverage of summer leaves the cluster would have to have been a lot smaller. Is overwintering like that feasible? Or are they just a random wild swarm? If so, when did they arrive and why there? They would've likely had to have developed that location before I moved the Easter swarms, in that I find it an unlikely choice for a feral colony to take up in such a close proximity to established colonies.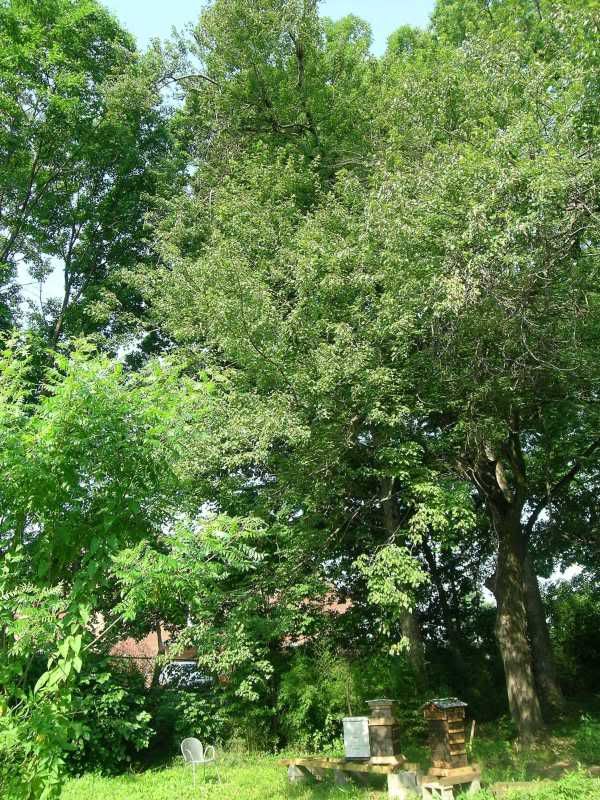 The nest is about fifty feet up in the storm-torn maple tree that hangs over the tiny Easter apiary. Can you see it there? (just left of top dead center) Last year Isis sat in the little shady cloister behind the chair.